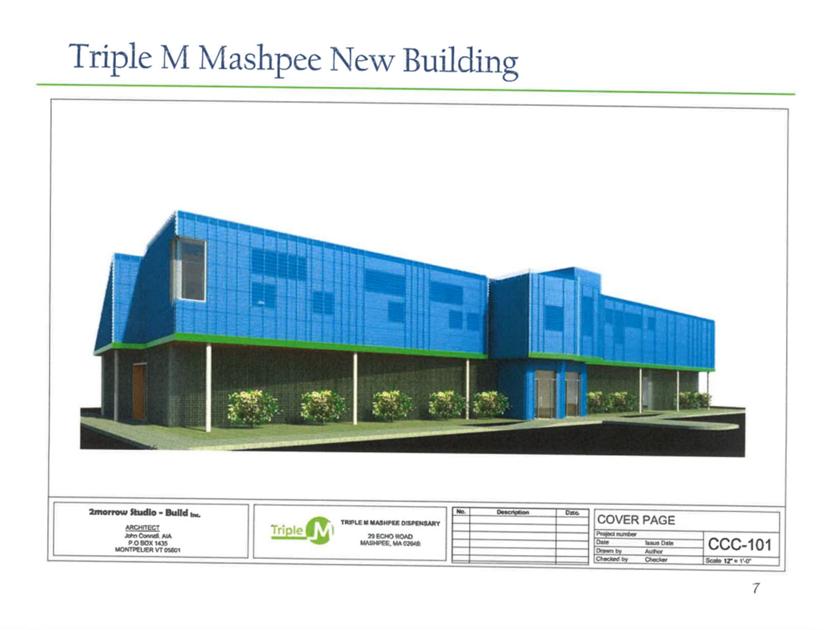 At its meeting on Monday last week, December 21, the Mashpee Board of Selectmen received an update from M3 Ventures, a marijuana company that plans to open a recreational dispensary adjacent to its existing medical dispensary on Echo Road.
Lianne Ankner, president of M3 Ventures—better known as Triple M— said the recreational facility could open as soon as April 1.
The recreational sales will take place in temporary structures that will be attached to the existing medical facility until construction on a new recreational facility is completed, Ms. Ankner said.
When completed the new recreational facility will have a 3,700-square-foot footprint, with 8,500 square feet of usable space, she said. The basement will be an employee locker room and storage space, the ground floor will be used for recreational marijuana sales and the mezzanine area will be used for security and office space, she said.
The recreational marijuana sales are expected to draw hundreds of customers a day, according to the presentation by Triple M. The company expects more than 176,800 customers and $11 million in sales in the first year.
Triple M's host agreement with the Town of Mashpee states 3 percent of gross revenues will go to the town. The host agreement also commits Triple M to an annual payment of $25,000 to a drug abuse prevention and education program chosen by the selectmen.
The selectmen raised questions about marijuana home delivery services, the packaging of edible marijuana products and the amount of traffic the recreational sales will generate.
The concept of recreational marijuana sales via home delivery "gives me great pause and serious concern," board chairman John J. Cotton said.
Ms. Ankner said Triple M cannot pursue home delivery at present due to Massachusetts Cannabis Control Commission regulations, and the company does not have plans to add a delivery service in Mashpee in the future.
However, because the town has allowed a recreational marijuana facility in town, the Cannabis Control Commission assumes that Mashpee is open to other companies offering home delivery unless there is a town vote to indicate otherwise.
"Because you have a marijuana treatment center in your domain, unless you have a town vote that prohibits that kind of operation, you can't prevent it in your community," Ms. Ankner said.
Mr. Cotton also raised "concerns with children confusing edibles with household products."
"Seventy percent of our investors are licensed physicians, and they have a deep concern that what we're providing to the community is safe," Ms. Ankner said. "Our edibles are packaged in containers that have child-resistant locks."
The edibles also have plain geometric shapes and do not resemble candies such as gummy bears, she said.
Selectman Thomas O'Hara said he is content with the packaging of the edibles.
"I'm very happy that you've taken into consideration the safety of children and anybody else in the household," Mr. O'Hara said. "I like the idea of not mimicking any candy such as the gummy bears."
Selectman David W. Weeden questioned a traffic study conducted by a group hired by Triple M that found the increased traffic due to recreational sales does not mean a traffic light would be needed at the intersection of Route 130 and Echo Road.
The town had suggested to Triple M earlier in the permitting process that a traffic light at the intersection might be necessary.
"You forecast customer visitors per year, just in year one, 2021, 176,842 individual people coming and going," Mr. Weeden said. "That sounds like a lot of traffic, but the traffic study says that a traffic signal and roadway modifications aren't necessary."
"We're completely open to whatever the board thinks is the appropriate thing for us to do," Ms. Ankner replied, adding that the company expects 758 cars per day going down Echo Road.
The selectmen did not take action to require Triple M to make any roadway modifications.