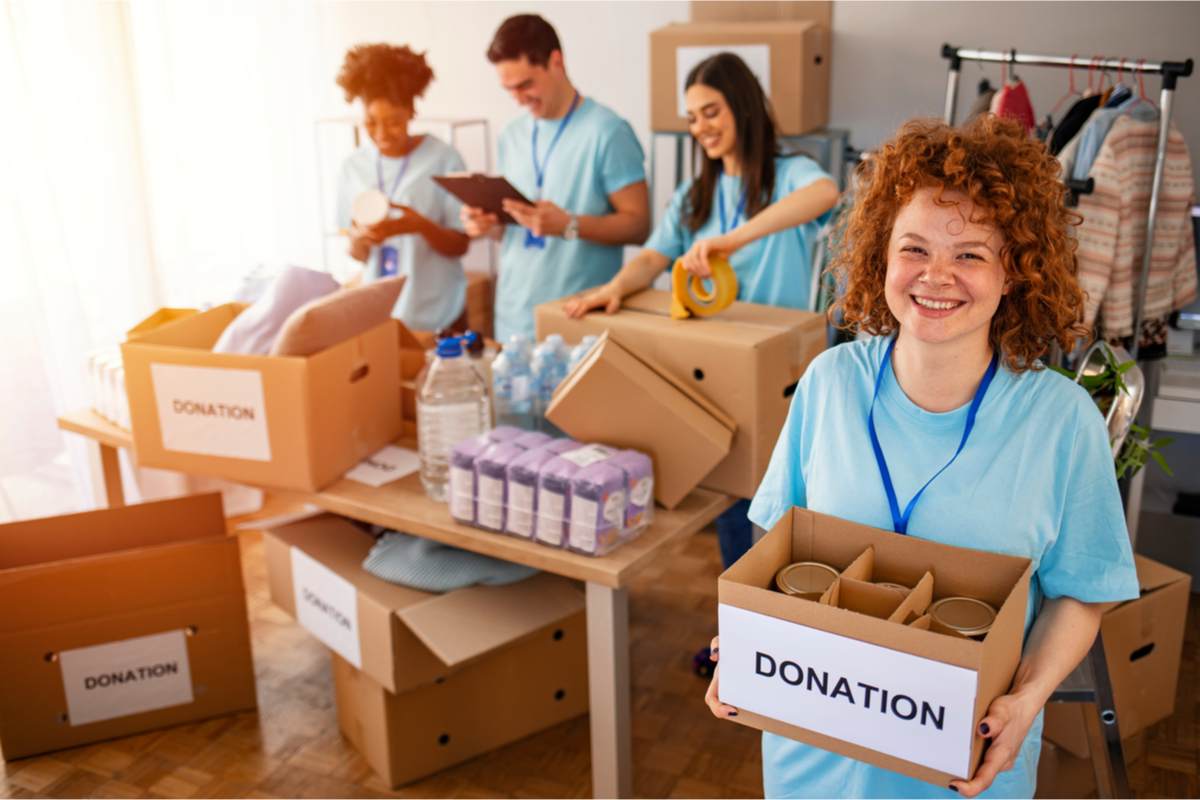 Americans are a generous bunch. Proof of this is evident in the results of Giving Tuesday, held this year on December 1. Donations on the annual fundraising holiday increased 25 percent from 2019, reaching $2.47 billion, with 34.8 million people participating across the U.S.
So, the spirit of giving is alive and well, even as the economy reels from the effects of the pandemic and partisan politics.
The cannabis industry and its members are no exception, continuing to give whatever they can. Having been declared an essential service in legal states during the pandemic, many dispensaries and product manufacturers (cannabis and hemp) have made holiday fundraisers and food drives part of their ongoing commitment to community.
In Seattle, cannabis retail chain Uncle Ike's Pot Shop combined forces with the Emergency Feeding Program to provide food to those in need. The partnership, which launched in October, has so far supplied 9,000 pounds of food and expects to continue through the New Year. Every Friday at Uncle Ike's Central District and White Center store locations, boxes of groceries and food staples are distributed to anyone in need. Store staff volunteer their time to help with this program and other community projects sponsored by Uncle Ike's.
Cannabis brand Shango, which has retail stores in Arizona, California, Michigan, Missouri, Nevada, and Oregon, launched its holiday community contributions with physical goods donations to Salvation Army including toys for children, as well as gifts for three families chosen from the nonprofit's Angel Tree program.
The brand, which opened its corporate headquarters in Moreno Valley, California in early 2020, also held a five-week food drive at its Moreno Valley store location to benefit local nonprofit Unity of Faith Christian Outreach Ministries food pantry.
"Being new to the area, we wanted to make a community impact by spreading some Christmas cheer," Shango Moreno Valley Corporate Controller Julie Dubocq said. "These two nonprofits look to fulfill an ever-increasing need in our community. Providing some holiday warmth by sponsoring families and buying toys was an easy choice."
In Westfield, Massachusetts, the Cannabis Connection retail dispensary made a donation to local nonprofit Westfield Food Pantry. The dispensary matched employees who contributed their tips for a week to raise funds, for a total of $2,500. A director at the food pantry said the amount was enough to provide a week's worth of groceries for sixty families.
Canadian cannabis retailer Stash & Co., based in Ottawa, sponsored a fundraising weekend to benefit the Ottawa Food Bank. All proceeds from December 12–13 store sales were donated for a total of $10,000. The company also is hosting a food drive throughout the month of December, to benefit the food charity; customers may bring their non-perishable food contributions to Stash & Co.'s Merivale Road or Bank Street locations. Store staff has volunteered to donate time to the food bank, starting in January.
"We were so happy to begin a relationship with Stash & Co this past September and honored that one of their first actions as a cannabis retailer was to give back to the community through the Ottawa Food Bank," said Rachael Wilson, interim chief executive officer at Ottawa Food Bank. "Through their volunteering initiatives, in-store food drive, and by donating their proceeds from December 12th and 13th, they are truly helping us provide what is needed most. Donations of goods help us to provide a variety of food, while monetary donations help us buy fresh and nutritious options like milk and produce. We are very grateful for this generosity."
As the old saying goes, "charity begins at home." In this case, Denver-based cannabis businesses are currently fundraising for employees of shuttered dispensary chain Sweet Leaf. The business had been the subject of mid-December raids conducted by the Denver Police Department, resulting in charges of alleged illegal sales at several of its retail locations, and the arrests of thirteen employees (who have since been released from jail).
The company's twenty-six cultivation, processing, and sales licenses have been suspended by the City of Denver. Ten Sweet Leaf dispensaries in various Denver locations remain closed and "hundreds" of Sweet Leaf employees are out of work, according to local news outlet Westword. A hearing date with local licensing officials in the case has yet to be scheduled.